Search Engine Optimization, Social Media Marketing & Pay Per Click
When activists and well-wisher's search for related non-profit groups on the internet, often they find themselves inundated with irrelevant search results. This happens because relevant keywords (for non-profits) are also very commonly used by "for profit" groups and businesses on the internet. This makes getting your non-profit's message getting found naturally in top of the results more challenging.
Key factors that help a website rank higher in these results are usefulness, reputation, and prior engagement by other users. Dotzoo's SEO teams goal is to protect your non-profit's precious marketing dollar investment, and help you get results that improve your organizations bottom line. We can help you rise above the irrelevant results that your potential supporters might otherwise encounter when searching for information online.
You can see the impact of our SEO team's effort by routinely monitoring Google Analytics results for your Organization's website – we will setup access to the same for you. This independent data tool gives detailed access to your website's performance as measured by Google. While there will be fluctuation in the movements of the keywords, and or resulting traffic, overall improvement will be visible after a couple of months by reviewing your Google Analytics account.
Initial Organic SEO & Social Media Marketing Setup
With any website, there are hundreds of things we can do monthly to make your website "better for SEO." Dotzoo SEO will initially focus on tasks that are essential for lasting results. A few initial items we will work on for you are:
Meta Tag updates: titles and descriptions
Keyword placement (including local – based on your geographical location)
Image optimization and tags
Menu and website structuring
Interlinking/Intralinking
Social Media set-up, connections, and initial posts
Mobile optimization for pages that need corrections
Page/Content assessment
Page Speed optimization
Reputation management
Sitemap updation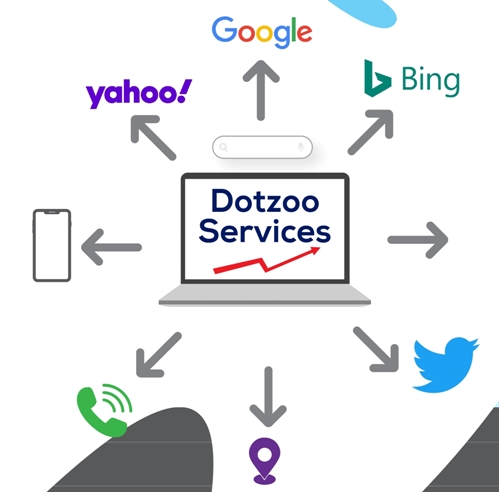 Initially, on-site adjustments we focus on are:
Reviewing pages with low keyword saturation & relevant content
Page Load speed
Meta descriptions
Title tags
Security (SSL?)
Sitemap/Google submissions
Page heading updates
Image crunching and tagging
The initial SEO process also involves our team researching your groups target audience, your competitors and understanding the geographical areas that you would normally draw supporters from. We then work on finding ways to bring your website forward in top keyword searches. Our team is equipped with experienced content writers, who can help update the language on your webpages to recommend keyword saturation, write blogs and also find news articles that would be ideal for promoting services you offer. The original fresh content we write will make your website stand out not only to your potential supporters, but also help in improving your ranking on Google, Yahoo, Bing etc.
In today's ever connected world, Social Media Marketing is an indispensable tool in your arsenal for connecting with your existing and potential supporters. Our ongoing SMM and SEO packages include varying levels of services to help you connect with your target audience and rise above your competitors, as well as above irrelevant results that people might otherwise encounter.
Ongoing SEO Expectations:
Google does not immediately crawl (reading content automatically) websites after changes are made. It may take 2-3 months for search engine crawlers to notice and chronical changes and start changing site rankings.
This is an ongoing process and every time a change is made, the timing of the resulting position changes is dependent on multiple factors.
A good rule of thumb is to look at your Google Analytics data after 2-3 months of regular SEO work, then every 3 months thereafter to monitor changes.
SEO is a multi-faceted process that incorporates several key factors. You will continue to see your results grow in the coming months, showing the impact of Dotzoo's SEO team's efforts.
We will continue to monitor your ranking in the market in comparison to your competition and modify our efforts based on parameters Google uses to determine ranking.
Most of our clients start seeing movement in just three months. With the right budget, most of our clients see at least a few of their keywords on the first page within the first six months.
PPC (Pay Per Click Marketing, Google Ads)
It is worth mentioning that when a supporter searches for an issue/topic/cause on the internet, the first 3-4 results at the top of the page and at the bottom of the page are highlighted and have an "Ad" notation next to them. These are driven by paid Google Ads. These are ad campaigns where the provider only pay when someone clicks on the listing, which takes them to the associated website. Imagine a potential supporter searching for information about a cause, and your website appearing on top of the page before the listing for any other entity. Dotzoo can help you with PPC as well! We write the ads and tweak them constantly. We also negotiate the cost per click with Google based on positions available and timing of the search etc. We can establish a monthly ad budget for you which will be charged directly by Google to your account, and we charge a small consulting fee for running these campaigns. It is important to avoid wasting your budget by placing filters and timely reacting to competitor's actions when running PPC campaigns. Our experienced PPC teams can manage this process for you.
PPC Expectations:
An immediate flow of relevant visitors to your website.
An excellent way for new organizations to create awareness amongst potential supporters searching for a topic.
PPC Campaign Process:
Detailed evaluation of your website and it's conversion ability
Detailed analysis of the competition in your service industry
Keyword data evaluation and Smart Keyword selection
Landing page optimization for optimal conversion to leads/phone calls
Ad copywriting based on years of industry experience
High conversion geo-targeting and scheduling based on your working days (for local non-profits)
Audience targeting for maximum conversion
Google Search Console setup and connection
Google Analytics and conversion tracking Setup
Improving the quality score of your website resulting in lower cost
Maximize savings by improving the click-through-rate
Landing page improvements for desired conversion
Account, Campaign and Ad Group setup for the best quality score
Continuous review of the results & improvement of the campaigns
100% transparency – since you can monitor spend via Google tools
Control over the ad budget
Live and Dynamic, Fact-based Statistics Dashboard
Ad budget itself is charged directly by Google.
Minimum commitment of $500 for PPC, with a Management fee of 20% for Dotzoo's efforts.